Judith A. Kirby
Eye Physician and Surgeon
Diplomate of the American Board of Ophthalmology, 1996.
Recertification, 2006 and 2016 Specializing in Comprehensive Ophthalmology and Vitreo-Retinal Disease
Dr. Judith Kirby has been selected by her peers to be among those to receive the D Magazine Best Doctor: Ophthalmology/Lasik Award for eight consecutive years, from 2009-2016.
A member of the American Society of Cataracts and Refractive Surgery, Dr. Kirby performs traditional and complex cataract surgery and monitors cataract progression.
Dr. Kirby has maintained American Board of Ophthalmology certification since 2006 and is certified through 2026. Her participation in this rigorous process demonstrates her commitment to excellence.
Board-certified ophthalmologist and founder of Kirby Eye Center, Dr. Judith Kirby has been caring for and restoring ophthalmologic health to patients in Dallas and surrounding areas for more than two decades. Dr. Kirby believes that healthy eyes are essential, not just for good vision, but as a critical component of overall physical well-being. She is committed to the complete health of her patients, often collaborating with other physicians to achieve the correct diagnosis and treatment plan.
Her thorough, uncompromised approach to complete eye care has led her to diagnose other, undetected health conditions in her patients – including carotid artery disease, multiple sclerosis and brain tumors. "My treatment and implant recommendations are based solely on what I believe to be in the best interest of my patients considering their overall health and lifestyle needs," explains Dr. Kirby. Spending significant time with patients to ensure they fully understand their diagnosis, options, risks and rewards is a hallmark of her practice.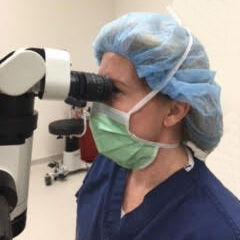 Dr. Kirby began practicing ophthalmology in 1997 in Plano, TX. She opened the Kirby Eye Center at Presbyterian Hospital of Dallas in 2007 and has continued to serve the ophthalmologic needs of DFW at that location until moving to the Carrell Clinic in 2014.
Dr. Kirby attended Drexel University Medical School in Philadelphia. Here, she was selected to the Alpha Omega Alpha Honor Society and the Sigma Xi National Honor Society for Achievement in Research. Dr. Kirby also received the American Medical Woman's Association Memorial Achievement Citation and received awards for physiology and biophysics, as well as awards for distinguished academic performance in medicine and surgery. During medical school, she served as a research fellow at the National Eye Institute of the National Institutes of Health (NIH) in Bethesda, Maryland.
Dr. Kirby completed residency at Baylor College of Medicine in Houston, TX where she was named Chief Ophthalmology resident. After residency, she was awarded a postdoctoral research fellowship at Baylor and received the NIH National Research Service Award. Dr. Kirby completed her vitreo-retinal fellowship at UT Southwestern Medical School in Dallas.
Her commitment to professional excellence is evidenced by her choice to earn certification from the American Board of Ophthalmology in 2006. She undergoes the rigorous re-certification process and has maintained her certification without interruption since attaining a decade ago. Dr. Kirby is board certified through 2026.